Whitehorse City Council has updated the signage on the bins throughout Box Hill including the Box Hill Gardens.
These signs highlight important anti-litter messages as well as brighten up the area with great colour and graphics with an aim to provoke a sense of pride for people that live, work and play in Box Hill.
Love Where You Play features one of the beautiful birds that can be found in the Whitehorse area, the Crimson Rosella. The design is inspired by the fun, games and memories that are made in your local park, which is why it is so important to keep it clean. It is where you go to spend time with family and friends, take your dog for a walk, go on your morning jog, and celebrate special occasions.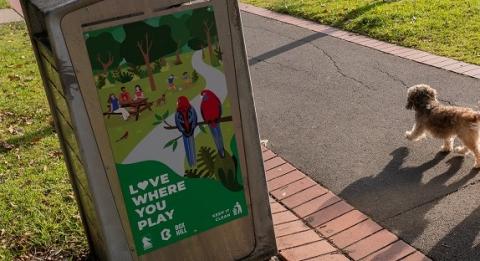 Your local park is a place where you get to enjoy the outdoors, local wildlife and take in a breath of fresh air. The Love Your Park posters highlight the natural habitat of the Box Hill Gardens, including native plants and features a Whitehorse local, the Eastern Grey Turtle. These posters also aim to emphasise the importance of the correct disposal of litter, so that it doesn't get into our waterways, harm our wildlife and end up in our oceans.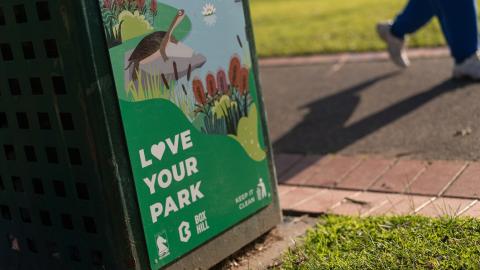 Your local café, restaurant, or shopping precinct is the ideal place for catching up with friends and family, connecting with other members of your local community, and supporting local businesses. When you spend money at a local business, it creates further job opportunities, circulates wages within the community, fosters community spirit and develops personalised connections. This has been the inspiration behind the posters; Love Where You Meet and Love Where You Shop, as well as reminding shoppers to go reusable where possible and ditch single-use plastics.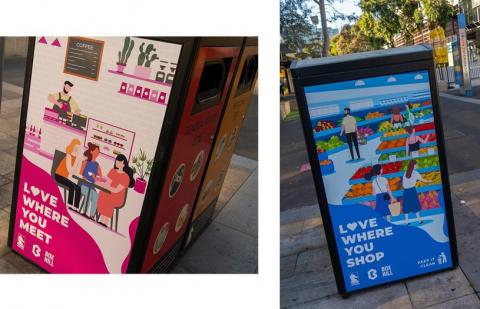 Whatever the reasons might be as to why you choose to call a certain place home, everyone has a unique reason to Love Where You Live, and care for it for future generations.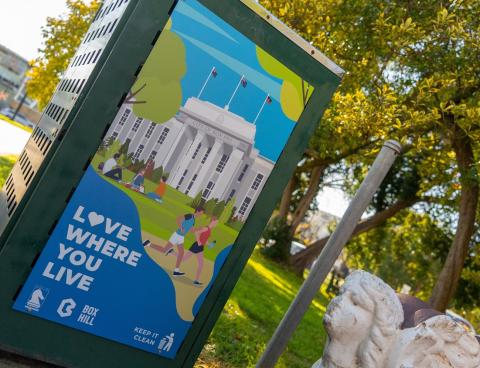 So on your next walk in the Box Hill Gardens, or shopping trip to the Box Hill Mall, make sure you stop and check them out.   
Box Hill bin designs have recently achieved a silver medal at the 2022 Better Future Melbourne Design Awards.